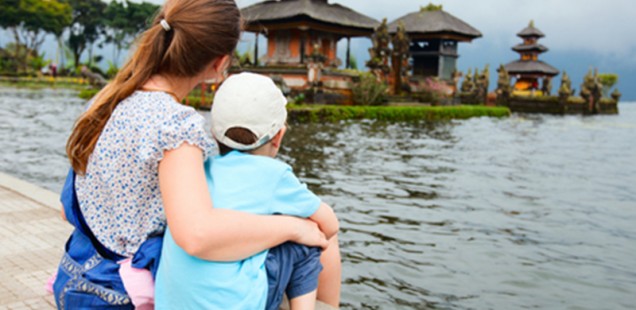 10 Best Activities to Enjoy on a Family Holiday to Bali
A family holiday to Bali is an excellent choice because Bali offers a wide range of activities for all age groups, from water parks and theme parks for kids, surfing and adventure for teenagers to rest and relaxation for parents. In addition, the Balinese love children and embrace the family spirit wholeheartedly.
Perfect activities would be those that every age group can enjoy and listed below are ten family activities that may appeal to all age groups:
Water Parks: Bali has 3 major water parks. The first and largest is Waterbom Bali in central Kuta. There is also New Kuta Green Park in southern Bukit Peninsula and Circus Water Park in the outskirts of Kuta. Set aside a full day to enjoy the array of slides, activities, "lazy river" pools and food and beverage outlets offered at the parks. The water parks offer something for everyone no matter what the age group and is therefore ideal for a family holiday activity.
Bali Safari & Marine Park: Located in Gianyar, has over 80 species and 400 specimens from Indonesia, India and Africa, which roam free in large enclosures. The Park's most popular attraction, Ranthambore has free roaming white tigers and is inspired by India's Ranthambore fort and national park. Visitors are also bound to see lions, zebras, komodo dragons, sharks etc. and Guests travel through different areas of the park in air-conditioned safari buses with English speaking guides enjoying live animal shows, a visit to Kampung Gajah, the retired working elephant sanctuary, and stopping for camel and elephant rides. Visitors can end their visit enjoying the water and amusement parks. A visit will take a full day and since there is so much to see and do it is best to get there at opening time.
Bedugul Botanical Gardens: Located in the cool central highlands has a vast collection of rare tropical flowering plants, glasshouses, nurseries, an herbarium and a seed bank. Learn about traditional Balinese uses for various tropical plants and see the rare giant Rafflesia that has bloomed and wilted many times over the years. But the main attraction is Bali Tree Top Adventure Park, a zip-lining park, allowing you to fly through the tree canopies on "flying fox" circuits of varying heights, experiencing breathtaking views. Each of the six circuit levels has its own grade of difficulty and has been adapted for adults and children aged four and up. The Garden also has accommodation available for those who wish to stay overnight and pay a visit to nearby Beratan Lake to see the iconic Ulun Danu Temple.
Kuda Bahagia Stables: Located in Pererenan has a range of horses, from local ponies, to thoroughbred Arabians. The stables offer riding lessons, traditional Balinese horse cart tours, guided children's trail rides with picnics in the rice fields and guided horseback tours of Balinese villages with rides through the countryside and, energetic canters on the sandy beaches of Pererenan.
Bali Shark Island & Serangan Marina Gardens: Indonesia's first eco tour concerning black and white-tip reef sharks is located in the eastern waters of Serangan Island. Shark Island's three-hour tour (inclusive of meals and refreshments) includes a shark cage dives, a turtle hatchery tour and a marine garden aquarium tour. Serangan Marina Gardens features over 100 species of rare fish and coral specimens. Interested persons can go on coral restoration and mangrove tours.
Pelaga Agro Tourism Site: This site comprises of vast fruit and vegetable plantations using drip irrigation, farms husbanding cattle and poultry and fish farms, and is located 730 meters above sea level around the Petang Village in Pelaga. Camping, hiking, electric-buggy guided tours, traditional Balinese cookery demonstrations, feeding the animals, palm sugar and coconut oil processing are activities to enjoy. Accommodation ranges from a restored Dutch-era guesthouse to luxury wooden farmhouses built around a central swimming pool.
The Sacred Monkey Forest: This popular spot in Ubud is home to over 600 Macaque monkeys who are notorious for their inquisitive and outlandish behavior. While strolling along cobblestone lanes through the forest observe the antics of the monkeys and in turn be observed by them!
Temples: Temples in Bali are very similar but the temple settings are beautiful and unique making it worthwhile to visit some of the more picturesque. The Pura Luhur in Uluwatu perched on a cliff with its lovely ocean view and resident monkeys is ideal to visit if you have children. The traditional "Kecak" dance is performed daily at sunset and is a visual treat.
Bali Bird Park: This well-known park, located 20 minutes from Ubud is one of the best managed bird parks and rehabilitation centers in the world. Be amazed by their collection of flamingoes, parrots eagles, starlings, pelicans, other exotic birds and the reptilian komodo dragons, most of who roam freely with the exception of a few caged specimens. Visitors can help with scheduled feedings or watch one of the bird shows of which the Birds of Prey show is the most popular.
Taman Kupu Kupu – Bali Butterfly Park: Located about an hour from Kuta provides the opportunity for visitors to walk through lush tropical gardens liberally swarming with multi colored butterflies that surround a person making it feel as if they are walking in a pleasantly mild storm of petals. The park also provides children interested in insects and arthropods the opportunity to get a closer look at caterpillars and other creepy crawlies!