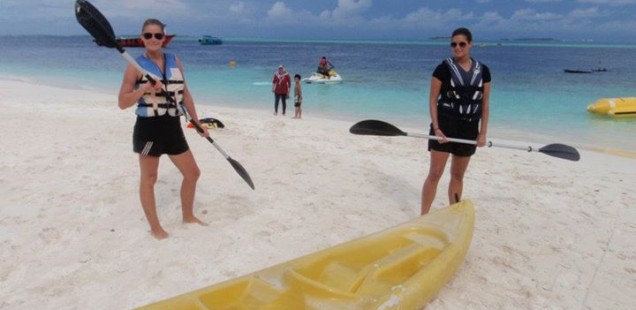 5 awesome days in the Maldives
Tanja tells us about her splendid beach vacation in the Maldives:
Maldives is practically synonymous with beach paradise. It's one of those countries that actually looks just like in the postcards. Yes, those beaches aren't photoshopped. A while ago I took a break from work and went to the Maldives with some friends for a super fun white-sand beach vacation. Here's what we did during those 5 unforgettable days:
Day 1—Waiting for paradise…
We took a 1-hour flight from Colombo airport to Malé International, which landed quite late so we spent the night at Hulhumalé (the airport island). The hotel arranged a cab for us to catch the first ferry to Malé the next morning. From there we were supposed to get picked up and go straight to a tiny island, Kuda Bandos, for a day full of fun and watersports before checking into our resort island called Bandos close by.
Day 2—Watersports and dolphins
The cab never arrived and the hotel was unable to call another one since it was too early. So we missed our ferry. We were so disappointed, that wasn't how our much awaited beach break in paradise was supposed to start! In the end, the staff from Kuda Bandos agreed to pick us directly from Hulhumalé by boat. We waited, watching a beautiful sunrise.
 Then the boat came and we finally saw the paradisiacal Kuda Bandos. Simply stunning! The boat ride to Kuda Bandos was overwhelming; I saw colorful fish swimming in the crystal-clear water and many tiny tropical islands in the distance.
Once in Kuda Bandos, we had the best beach day ever! We had a blast jet skiing to a small sandbank with nothing but clear blue water! It was awesome and we stayed there for a while enjoying the view.   Later, my friend Doro and I kayaked around the island and saw dolphins!
In the late afternoon, exhausted after an exciting beach day, we took a short boat ride to Bandos and checked into our deluxe rooms for 3 nights.
Day 3—Long hours under the sun!
Early morning, we went for a dive at the Bandos diving center. We had the time of our lives diving among the stunning reefs. We saw many black-tip reef sharks! It was a bit scary but utterly fascinating!
Afterwards, we spent long hours sunbathing on the powder-fine beach and went on a catamaran cruise. But mostly, we just relaxed and enjoyed swimming and floating around in the turquoise waters.
In the late afternoon, we all went on an amazingly colorful sunset cruise before a delicious barbeque dinner of freshly-caught seafood.
Day 4—Shaaarks!
We snorkeled for hours around the island and saw schools of rainbow-colored fish and sting rays. We swam far out to a big rock and saw more reef sharks there. A crazy thing happened: our local snorkeling guide could hold his breath for a long time. So he dived down to the seabed and held his breath for about two minutes staying completely motionless and all these lovely fish and black-tip reef sharks surrounded him. It was beautiful! However, one of my friends was dead scared of the sharks so we went back earlier than I would have liked.
Day 5—Last day
We bade farewell to beach paradise in the morning and took a speedboat transfer to Malé. We wanted to explore Malé, but were sorely disappointed. There was absolutely nothing to see there so don't bother reserving time to explore. It felt like we were back in Sri Lanka all too soon. Anyways, the whole journey was amazing and exactly as we expected despite setbacks.