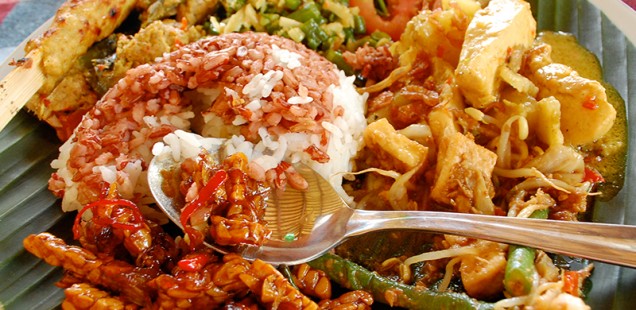 5 Things You Will Learn in Indonesia
Marisa DeSalvio
Marisa is an enthusiastic traveler and life-long learner. She loves diving into new adventures and has had the privilege of visiting 20 countries. Marisa's favorite travel experiences include hiking the Everest trail, riding a hot air balloon over Cappadocia, Turkey, and diving with great white sharks!
In December 2011, I had the privilege of traveling to Indonesia. Lucky for me, my best friend from high school was living on the island of Java, which meant I had the best local guides to help me plan our adventures. We spent two weeks traveling through Bali and Java. These two islands couldn't be more different but both are full of culture, arts, and history that dramatically changed what I knew about Indonesia. Here are 5 interesting things I learned while I was traveling there.
The most expensive coffee is made from poop!
In Indonesia, you must try kopi luwak and here's why: this coffee is made from the undigested coffee seed droppings of the small luwak animal. Of course, the droppings are cleaned, roasted, and then finely ground to make the coffee. Some people claim the process adds smoothness and reduces the acidity while others claim that there is no difference between this specialty coffee and others. In any case, it's not every day that you can try the world's most unique coffee and you're not likely to forget your first taste!
A sunrise is worth the effort.
While I am not a morning person, I quickly learned that in Indonesia, getting up with the sun is absolutely worth the effort. Indonesians themselves subscribe to this theory and get up early to take full advantage of the daylight hours. Knowing this, I dragged my grumpy and sleep deprived self up for a sunrise tour of the Borobudur temple on the island of Java. I quickly chugged a cup of coffee and watched as the dark sky gradually changed into bright colors and the morning fog lifted to reveal a stunning landscape. This temple with its ancient Buddhist statues and dynamic carvings will make any early morning worth the effort and you'll soon find yourself craving more sunrises in new places.
There is always a story to be told.
Indonesians are storytellers and this manifests itself in art, music, dance, and even, puppet shows. Javanese puppet shows are told in ancient dialects and like other things in Indonesia, you don't need to understand the language to understand the emotions of the story. Listening to the traditional instruments or watching the precise movements of a dance transports you to a different time and place and you will find these diverse artistic expressions in every corner of Indonesia.
Stick to routine.
If you're anything like me, you probably have your daily routine down. It may go something like working 9 to 5, exercising and eating a healthy meal (or let's be honest, binging on chocolate and Netflix) and off to sleep to start all over again. In Indonesia, ritual is king, especially with the influence of major religions. As the largest Muslim country in the world, daily life consists of the routine call to prayer, numerous cleansing baths, and careful devotion to rituals. On the Hindu island of Bali, temples overflow with burning incense, food, and flower offerings. No matter where you travel to in Indonesia, it is evident that routine is important—you may find yourself being woken up by the same rooster every morning and religiously following the patterns of daily life.
Expect the unexpected.
Even if you find your routine in Indonesia, your senses will still be overwhelmed in the best ways possible. The friendly people, the flavors and smells of delicious foods, the colorful sights of batik and tropical landscapes; it is impossible to take it all in at once. I learned that the stinky durian fruit is surprisingly sweet and that the smallest food stands often serve the biggest flavors. Even Indonesians themselves are curious people; you'll never know what they'll ask you next. You could spend years exploring Indonesia's intersections of cultures and religions and still be surprised by what you find. It is a place full of unforgettable life lessons.
I am certain that if you travel to Indonesia, you will experience these lessons and more. Every adventure is an opportunity to learn something new. Whether you choose to hang out on a beach or zoom through rice paddies on mountain bikes, you will discover something about yourself and be open to the new perspectives that Indonesia has to offer.