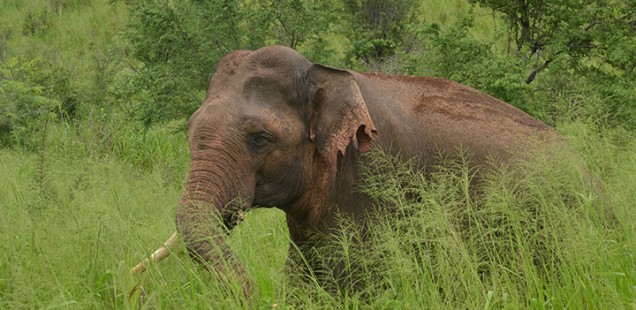 A Most Unexpected Christmas and New Year's

Tanja has unique ideas for a sunny Christmas holiday:
I remember, last Christmas, I was Skyping my brother back in Germany, and he had a long list of complaints about cold and dreary weather. It went on for a while before he finally asked how I was spending mine far away from home. Well, soon before the Skype call, I had gone on a long swim and enjoyed a sunbathing session at one of my favorite hotel pools. I was doing more than fine; my brother was surprised to find out. I usually go home in December, but last year I stayed in Sri Lanka for a "working vacation." I thought I would terribly miss my family and it would be awful, but somehow I managed to enjoy an astonishing Christmas unlike any I've ever experienced.
Sri Lanka is a majority Buddhist country, so Christmas celebrations aren't as grand as, say, in the Philippines. There are some gaudy Christmas decorations and seasonal sales in major cities like Colombo, but otherwise the celebrations are low-key. So if you are one of those people, like me, who hates ostentatious Christmases, Sri Lanka is the place to be. After a half day off in Colombo and a Christmas Eve spent with some of my friends (who stayed back in Sri Lanka just like me) with loads of delicious food and red wine, I was off on 25th morning to the Kalpitiya Peninsula, the starting point of my unique year-end holiday.
Kalpitiya is super famous for dolphin watching, which I've immensely enjoyed several times. But, I mostly love this laidback destination for the beaches, like Alankuda, which is perfect to escape the peak season tourists. I was field-testing Bar Reef, a lovely beach chalet in Kalpitiya. The resort was stunningly exquisite, designed mixing rustic-beach-hut atmosphere with modern comforts. Their infinity pool was quite breathtaking, too. However, I ended up spending most of my time on the golden beach, which was largely crowd-free as far as I could see. There were coconut palms here and there shading the soft sand. It was a great place to just lie on the sand watching the horizon for dolphins!
On the 26th, I was on a 3-hour drive to central Sri Lanka, towards the Cultural Triangle famous for the UNESCO-designated Sigiriya Rock Fortress and the Dambulla Cave Temples. I was on a quest to experience the area differently. I ditched the usual hotel-with-pool for a quirky eco-lodge surrounded by raw jungle called Galkadawala in Habarana. I stayed in a rustic room, complete with mosquito net and clay teapot, with a more than generous view of rustling treetops around. Nearby was an artificial lake covered in water lilies, where wild elephants stopped by sometimes. Sigiriya, Dambulla and the ancient city of Polonnaruwa were all amazingly an hour or less by car. At Galkadawa, it was hard to imagine there was a world outside getting busy for festivities. I spent my time going on peaceful strolls, kayaking on the still lake and hoping my time here wouldn't end.
While I was in the area, I made a curious detour to an arboretum in Dambulla. Not many people know about this, not even some locals in the area. Basically, an arboretum is an artificial collection of trees. The one in Dambulla was established by a British man called Popham (so the proper name is Popham's arboretum, but the townsfolk crudely call it "suddage watte," white man's garden). Popham wanted to preserve the native trees that grow in the area but ends up being destroyed by slash-and-burn farming. The result is a peaceful getaway surrounded by precious fauna and hardly any soul in sight. I was told that those interested can even camp out here, if you can bring your own equipment.
My next stop was the central Hill Country. In November, it had rained a lot as the monsoons shifted from the southwest to the northeast. But I was surprised by the almost rain-free weather in December. Maybe I was lucky but I didn't encounter any rain on my tour. It was sunny and warm, but the weather got cooler as I approached Kandy, the famous historic capital. Kandy seemed to be all set to welcome 2016, with hotels getting ready for New Year's celebrations and garment shops gaudily advertising end-of-the-year sales.
From Kandy, I went on an amazing trek to three stunning hilltop temples. First, I stopped at Embekke temple at Gampola, a small town about a 30-minute drive from Kandy city. Gampola is place teeming in history, being a former kingdom and all, and the 13th-century Embekke temple complex stands out from rest of the historic buildings thanks to absolutely exquisite woodcarvings. I'm not a hardcore appreciator of artisanship, but even I was completely enamored by these carvings of sitar players, wrestlers and elephant-lion chimeras. After I managed to peel my eyes away, I started my trek through the jaw-dropping Sri Lankan countryside to another historic temple, Lankathilake.
I trekked past lush gardens, vast tea plantations and paddy fields to a scenic village to see the famous Lankathilake temple, situated on top of a rock surrounded by greenery. It didn't look like much from the outside, and I didn't think it was a beautiful temple at all until I saw the inside. Murals, intricate frescoes and carvings greeted me everywhere. After a thorough tour, I came out to be greeted by the refreshing hilltop breeze, and I resumed my trek to a famous rock temple.
I got to see more of the stunning Sri Lankan countryside as I trekked to the Gadaladeniya temple. This area once belonged to the last kingdom of Sri Lanka. It remains relatively untouched and pristine, and it's not hard to imagine how the king's subjects farmed and lived hundreds of years ago. My trek ended as I came upon a white stupa on a flat rock surrounded by coconut palms. An inscription at the front said a king commissioned the temple in the 14th century. Inside were amazing stone carvings and an imposing golden Buddha statue where many worshippers offered lotus flowers. The last leg of the trek left me a bit tired, but all that was forgotten when I was on top of the temple rock. The surroundings were marvelous. I immensely enjoyed an invigorating picnic lunch, concluded my trek and drove back to Kandy.
I departed Kandy by train (thrilling!) and returned to Colombo to meet up with some friends and travel to Bentota, the destination I've mostly been looking forward to on this tour.
One of the hipper beach destinations in Sri Lanka, Bentota has jaw-dropping golden beaches complemented by excellent accommodation. We stayed at a 4-star beach resort, which served a scrumptious New Year's Eve gala dinner. After dinner, drinks and some dancing by the pool, we welcomed 2016 by releasing sky lanterns by the beach at midnight and cheering for the resort's fireworks.
That was definitely an unusual way to spend my Christmas and New Year's Eve. The only downer was that I wished my family was here also. Well, after seeing my many Facebook photos of the holiday, my parents and brother are all packed and ready to fly down to Sri Lanka for their own sunny end-of-the-year holiday. Yay, this year's holiday is going to be so much fun!