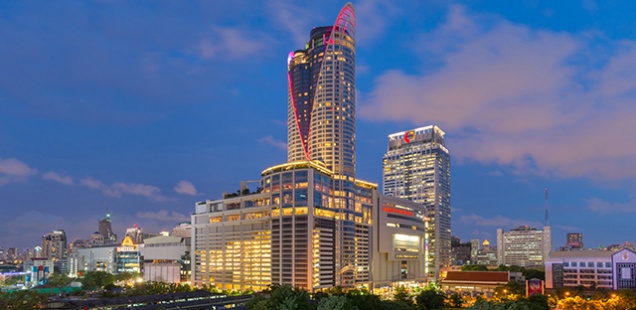 Bangkok in 72 Hours
Chris writes about how to enjoy the best of Bangkok in just three days:
Bangkok, simply put, is a great city. It's trendy, indulgent and unavoidable if you are traveling in Thailand. I've been to Bangkok many times and I can say that there's plenty to see here. If you want to fully embrace Bangkok with a short stay, here's what you should do:
Day 1
First thing to do is to take a deep breath and get your bearings. Bangkok is loud, noisy and the traffic is crazy. It's also home to Thailand's hippest hotels, bars and other hangout spots. You can have your choice of accommodation, whether you want a suite at the celebrated Mandarin Oriental or couch surf. The options are endless, so Travablue can help you choose what's best for you (and your wallet).
I started my Bangkok tour at the Ko Ratanakosin Old City area. First I visited the Grand Palace, the ultimate tourist hotspot in Bangkok. The biggest draw here is the Temple of the Emerald Buddha. (Despite the temple's name, the Buddha statue is actually made from jade.)
Only few steps from the Grand Palace is a riverside mall called Tha Maharaj, which has many trendy cafés and a Starbucks. It's a good place to lunch or snack during sightseeing. For authentic Thai food, just walk down to the Tha Chang Pier that has many street food vendors. The fascinating Amulet Market is nearby.
After lunch, I took a stroll through the Saranrom Royal Garden to Wat Pho, famous for its iconic Reclining Buddha statue. If you are really into "Watting," you can check out the nearby Temple of Dawn also. I chose to spend the afternoon getting a traditional Thai massage at Wat Pho. Yup, Wat Pho is also a traditional medicine school. This is the real thing and not the kind you might get at, say, Patpong.
In the evening, I boarded a "khlong" water taxi for a wonderful trip around Bangkok.
Day 2
I started my day with a stroll along atmospheric Ratchadamnoen Klang Road, designed to look like Champs Elysees in Paris. About 10 minutes by foot from here is the lively Soi Rambuttri road.
After some Thai noodles for lunch, I took the sky train to the Jim Thompson House. It's as intriguing as its eponymous owner who was a CIA spy. He mysteriously disappeared in 1967, and his home has since become a popular museum.
Then I toured Bangkok's central shopping area: the Siam and Ratchaprasong districts. Really, shopping is one of the biggest attractions in Bangkok. You can buy big name brands at the Siam Paragon Mall or head to the Mahboonkrong market for cheap knockoffs.
Bangkok comes alive at nightfall. You can head off to the Ratchadamnoen Stadium to watch a Muay Thai boxing match. Alternatively, you can watch a (family friendly) cabaret performance at Calypso or Mambo theaters. Or you can just hit the many bars. Go to the Sky Bar, the highest rooftop bar in the world, where they filmed Hangover 2.
Day 3
My last day in the city, I took a morning stroll through Tha Thewet flower market to Si Ayutthaya Road. From here, I toured the Ananta Samakhom Throne Hall, a charming neoclassical building. Beyond the Throne Hall is the Dusit Park, sometimes called the Thai Versailles.
Afterwards, I took a tuk tuk ride past the Democracy Monument to the National Museum. Also nearby are the National Gallery and the National Theatre.
I spent my last hours in Bangkok getting pampered at the hotel spa. Couple of hours later, I was a very happy passenger on a domestic flight to Ko Samui.