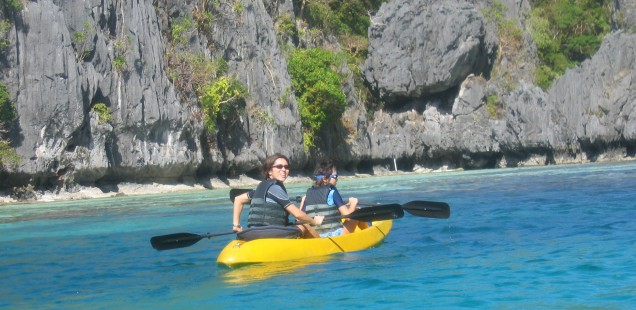 Paradise beach vacation with kids at El Nido, Philippines.
Masa writes about his very interesting vacation in the Philippines:
Ever wonder where you can enjoy the perfect family beach vacation in paradise?  I bet you are thinking of someplace with utterly breathtaking scenery, but also with plenty of fun and safe activities the kids can try. Well, that's El Nido.  With sheer limestone cliffs rising above clear-blue waters brimming with marine life and white sand beach coves tucked in between, gorgeous El Nido is a magical and exciting place. It's remote and without a lot of tourists, so you really feel like you are discovering something new. The beautiful scenery and excellent service at El Nido Resorts make it the ultimate getaway for a relaxing and gratifying vacation.
Getting there can be an adventure in itself. First fly to Manila by commercial plane, from there a small private plane to the northern tip of Palawan, then a short drive in a Jeepney, and finally a boat ride to the islands of El Nido. Our flight to Palawan was scenic, offering a good birds-eye view of the Philippine islands we were flying over. Then, the teeny, tiny airstrip was hidden in the trees by the sea so that it looked like we were landing in the jungle itself. That was a surprise! As we disembarked our little 10 seater plane we were warmly welcomed with song and dance at the cute little open-air thatched-roof airport. Talk about VIP treatment!
The service, arranged by our Filipino Travablue agent, was fabulous throughout the trip. When we arrived by boat at our hotel, we were warmly greeted at the dock by the hotel staff. We even had our own personal guide for our entire stay. Trained in first aid and life saving, he was great with the kids and made us feel super safe. He was very knowledgeable about the area and the local flora and fauna enriching our stay that much more.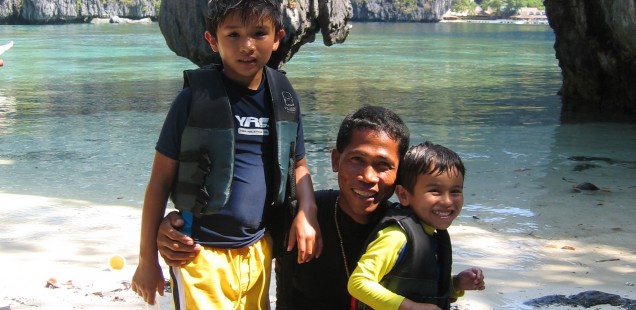 The wonderfully diverse landscape of El Nido and its islets offer so many adventures and activities. We did extraordinary things like learning to sail a catamaran and swimming through a hidden passage to a secret beach. We explored an old cave and hiked to the top of one of the many islands for a great view.
We explored the island's underwater world with our guide, snorkeling and scuba diving. He was very patient and kind while showing my kids the proper way to put on their snorkeling gear. We swam with schools of fish and even got to touch several of the sea creatures. My kids, to their great delight, got to hold a vibrant blue sea cucumber and a bright pink starfish. Our guide showed off by catching a ride with a giant turtle and cupping a surprised puffer fish gently in his hand to "puff" it up. We were too scared to touch that!
One day we swam with a school of giant Jack fish. It was pretty amazing to be amidst these giant fish. Next day we went fishing with hand lines and caught one of those huge Jack and ate it for dinner at the hotel.  The hotel chef expertly prepared several dishes with our catch. Yum!
We kayaked around the amazing limestone formations and explored the little caves hidden in these cliffs. We swam through a secret opening in a cliff wall at one of the islands at low tide to reach a hidden beach. We did some scuba diving and explored the rich tidal pools by the shore.
We cruised around the islands at sunset and enjoyed the majestic scenery of the islands. We searched up high in the cliffs for the birds' nests that El Nido is famous for- the kind found in bird's nests soup in Chinese restaurants. The birds make their nests high up in the cracks, crevices and ledges of the cliffs of el Nido, and the locals harvest them for export. We saw the nests way up there but we never did see how they actually get the nests down from their precarious perches.
We took some time to relax too, and spent a day on a deserted island as castaways. But first the hotel did some prepping for us. They didn't just pack us a lunch, they set up a table with linens on the island, and left us some kayaks us so we could explore if we wanted to. We felt so pampered!
The hotel had fun beach parties with singing, dancing and entertainment. We got to try the Filipino bamboo dance, called the Tinikling, where you have to jump in between two bamboo sticks.
We had such a fantastic vacation at El Nido. It was the perfect combination of fun, adventure and relaxation. Kids and adults alike never had a chance to be bored and we all learned a lot of things. We enjoyed it so much we went back for a second visit in the same year!