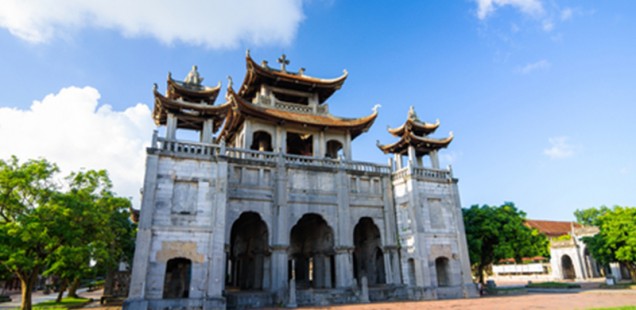 Best South and Southeast Asian countries for a Christmas vacation
I've spent my last ten Christmases travelling around the globe and I long for the Christmas vacation all year, not just for the presents and the family feast, but because it's the best time of the year to travel. Why not escape the biting winter cold and enjoy an exotic Christmas vacation in a far-off place, like Southeast Asia? The eclectic Southeast Asian region offers many desirable options for travelers during the holiday season, including warm beaches, stunning scenery, delicious food and intriguing local Christmas traditions. You'll never be bored and you'll find out how different cultures celebrate Christmas differently. Here's a list I compiled of the South and Southeast Asian destinations where I most enjoy spending my Christmas vacation:
Philippines
As one of the only two predominantly Christian countries in Asia, the Philippines celebrates the "world's longest Christmas" with great fervor. Festivities start in September with caroling and don't stop until January!  If you visit Manila during this season, you can endlessly feast your eyes on lavish lights displays and elaborately decorated storefronts, parks, office buildings and open areas. You will be dazzled by the numerous parols, stunning Christmas lanterns adorned with shimmering designs that signify the star that guided the Three Kings to baby Jesus. Parols are so popular some cities actually hold grand lantern competitions throughout the season. Christmas here is a unique combination of religious devotion and Filipinos' love of feasting. From December 16 to Christmas Eve, local churches hold a series of masses called Simbang Gabi, during which scores of delicious local delicacies are prepared for guests to stuff themselves with, such as bibingka (yellow cake), putò bumbóng (purple sticky rice steamed in bamboo flutes) and tsokoláte (Spanish-inspired hot chocolate).
Sri Lanka
This tiny "island paradise" located at the tip of the Indian subcontinent offers many alluring attractions during the Christmas season, especially in Colombo and Negombo. When the rainy seasons ends in November, the dolphin and whale watching season begins on the Western coast of the island, which is one of the world's rare places to view Blue and Sperm whales. The island's Kalpitiya lagoon is famous for watching pods of bottlenose, spinner and other species of dolphins. If you are the adventurous type, you can go hot air ballooning, tubing, snorkeling or take thrilling jeep safaris into "Asia's best safari destination" to see large herds of wild elephants, leopards and flocks of flamingoes. In December, you can join the many pilgrims and climb the sacred Adam's Peak mount for a physically and spiritually rewarding journey. Or you can just relax on one of the many stunning beaches on the island and sip on King Coconut wine, a seasonal specialty.
Thailand
A visit to the "land of smiles" during the Christmas season is a must for anyone who wishes to marvel at the extravagant lights displays, store Santas and colorful nativity scenes in Bangkok and Chiang Mai that rival those in New York City. Once you are done enjoying the uniquely Thai-style Christmas festivities and foods, you can venture into an English or Irish-style pub in Bangkok to enjoy more familiar and intimate Christmas festivities with expats. On Christmas day, travelers can attend mass held at exquisite colonial churches, such as St. Francis Xavier's Church in Bangkok. It's also the whitewater rafting season, so don't miss out on an opportunity to try your hand at adventure rafting or bamboo raft gliding on the scenic rivers of Northern Thailand. This is the ideal time to explore the isolated and unspoiled rainforests, waterfalls and stunning beaches of southern Thailand.  In particular visit Ko Tarutao for breathtaking views of birds, mouse deer, fishing cats and rich marine life.  Best of all, the Thai government has declared that all entrance fees to national parks will be waived for this New Year's!
Maldives
While Europe shivers, Christmas in Maldives is sunny, warm and clear blue. Maldives is famous for being a paradise for Honeymooners looking for romantic dinners under the stars on a white-sand beach. Christmas is the peak tourist season in Maldives, and it's not just for Honeymooners. Enjoy your Christmas nights in luxury at one of the many innovative beach resorts on the Maldives atolls, some of which come with amenities such as personal Jacuzzis and plunge pools. Many hotels also arrange special feasts for guests on Christmas night. This is the best season in Maldives to go diving because the sea water is at its clearest.  Go coral reef diving, snorkeling or jet skiing in the world's best atolls for watersports.
Vietnam
Christmas is one of the four main religious festivals celebrated with gusto by Vietnamese Christians and non-Christians alike. Christmas Eve is bigger than the actual Christmas day here and all the major cities have grand decorations and celebrations planned, such as never-ending seas of fairy lights, fake snow showers and fascinating billboards of giraffes grazing on snowy plains. Don't forget to visit the northern province of Ninh Binh, home to the largest number of cathedrals in the traditional pagoda style, including the historic Phat Diem, made of wood and lacquer. For Euro-style Christmas pageantry and food, book a room in Hanoi. For a more unique Christmas, board a sunset cruise on Ha Long Bay.