Cambodia off the beaten track
Masa shares his shockingly transformative pre-Christmas holiday in Cambodia:
Couple of weeks ago, I made a curious stop on my way back from Sri Lanka to the States—Cambodia. I haven't been to the country of jungle temples in a while, and my youngest son, who was with me, wanted to go on a pre-Christmas adventure and see how everyone was prepping for the celebrations in Southeast Asia. So we decided to reserve a week to tour Cambodia, but way off the beaten track. This short and fun trip with just the two of us ended up drastically changing our perspectives of the kingdom nation.
Once again, our tour began in Siem Reap, a city that has radically changed since we last saw it. When I visited couple of years ago, Siem Reap was a relatively small and unremarkable layover for travelers who wanted to explore Angkor Wat. The city has since undergone a metamorphosis of sorts. Chic cafés with menus in US dollars beckoned us at almost every street corner, and there were numerous posters for international film festivals and experimental photography exhibitions. Among the comfort guesthouses were luxurious hotels with Christmas decorations. The vibrant street food scene we so loved during our last visit was still there, but so were shiny new restaurants with menus to accommodate Western tastes to savory local cuisine.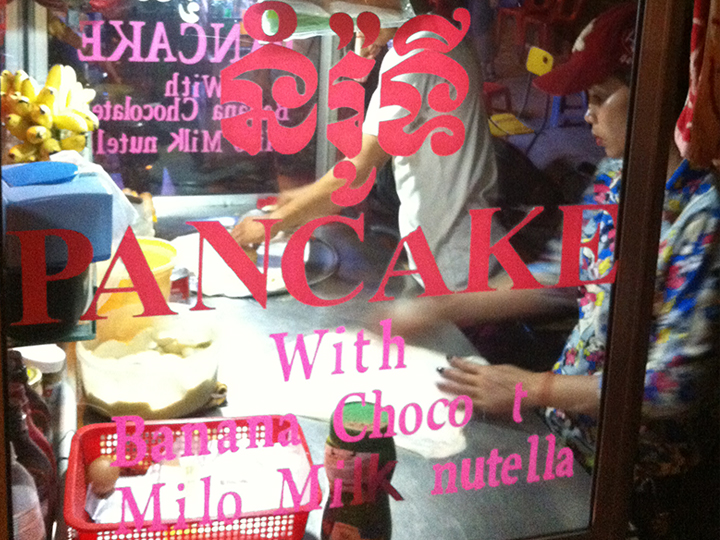 My son was dazzled by all this change. He loved devouring premium beef garnished with red tree ants, and playing a game of golf at a course with mini-replicas of the Angkor temples. I took him on a tuk tuk ride around the city to show him the parts unseen. As it was, the backstreets of Cambodia couldn't be more different from the prim and polished sidewalks with the coffee shops. This sector was packed with sweaty bodies and humble shanties of the urban poor. An occasional food stall here and there sold dirt-cheap noodles to tired laborers and street vendors. While the tourist areas of Siem Reap were kept clean and neat, trash piles here were ubiquitous. And, yet, the people were very welcoming and smiled at us at every turn. My son was at times shocked, fascinated and deeply moved, and I was glad that I'd shown him a part of real Cambodia.
We couldn't leave Siem Reap without visiting Angkor Wat, of course. This time, we wanted to see the lesser known temples where tourists hardly ventured. The best way to avoid the crowds at Angkor Wat is to go early before everyone else. But, even at 7 a.m. the tourist busses were out in full force at the main site. At the ticket office, we were greeted by newly-printed posters issued by the government warning tourists against taking selfies with monks, wearing short clothes above the knees, stripping and giving money to beggar children. Indeed, there were many school-aged children near the iconic temples with plastic cups in hand hoping for coins. The poster warned that freely given tourist money encourages children to leave school and take up begging full time. We spoke to some of the kids with our tuk tuk driver-slash-guide. All of them came from families poor enough to think of begging as a lucrative profession.
With our guide, we avoided the famous temples and rode to far out sites tucked in the jungle. Couple of meters from the main site was Ta Som, a decrepit temple overrun by savage fauna that looked as if no one had visited since the 19th century. No other tourists were around so we had this ancient place all to ourselves. Then, we drove to the Beng Mealea temple located well off the tourist bus trail somewhere north of Siem Reap. Beng Mealea looked even feebler than Ta Som, but was more beautiful with massive tree roots and jungle vine coiled around the complex like a quirky Christmas wrapping.
Another day, we drove even farther north to Preah Vihear. This ancient temple, too, is a UNESCO-designated marvel, but sadly goes unnoticed because of Angkor Wat's gargantuan fame. Located on a lush plateau, the temple offered us a jaw-dropping view of the surrounding valley. I was surprised to learn that Preah Vihear was the focus of a long running dispute between Cambodia and Thailand, and that rival soldiers even fought for it once.
My son was enamored by the Angkor-era temples and their demonic and godly murals depicting complex tales of good and evil. He also wanted to see more of authentic Cambodia. We eventually ended up in Phnom Penh, Cambodia's vibrant capital that had wowed us on our previous visit. My son remembered little of that holiday, so I took him around the city on a second tour. He loved the golden royal temple, and was shocked by the Genocide Museum and other monuments commemorating the brutal Khmer Rouge years. I took him to the Killing Fields of Choeung Ek to pay respects to the stupa there erected in memory of thousands of women, men and children executed by bludgeoning.  I could see that it was hard for my son to wrap his head around the dark undertones of a beautiful country like Cambodia.
Before we departed, we went on a boat cruise on the Tatai River. We hadn't planned on it, but my colleagues wanted me to field test it. Tatai River flows down to Thailand through the breathtaking Cambodian wilderness. The cruise itself was humble, but the scenery was utterly captivating. We went past eerily quiet mangrove forests and thick jungle. This is deep country, and there were no tourist traps, unsightly crowds or much human disturbance. Midway through, we anchored to spend overnight at a floating tent, which I thought was a rustic version of a Maldivian overwater villa. My son absolutely loved it.
A short and hasty trip as it may have been, Cambodia managed to impress us in ways we didn't think was even possible. Cambodian people had survived unimaginable hardships—wars, genocide and horrifying bombings—and yet manages to be one of the most welcoming countries for tourists to explore.  We were sometimes overwhelmed, but mostly hypnotized, by what we'd seen off the tourist trail in Cambodia. My only regret is that my wife and the other three kids weren't there to enjoy it with us. I think I'll come back, probably in the summer, so all of us can once more enjoy this kingdom of wonder.