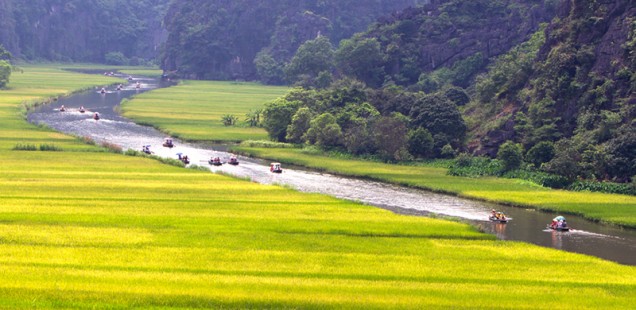 Lose yourself in the beauty and captivating allure of Vietnam
Vietnam is a haven for the explorer. It is a true place of bliss for the wanderer. The magic of Vietnam is… simply being there.
Fall in love with the little villages, nestled amidst mountains terraced with endless paddy fields. Take a closer look at the lifestyles of the village communities who seem to be telling a different story each day. Discover the hidden charms of the country's unspoilt beaches, tropical forests and soaring mountains. Explore the ancient temples and shrines scattered across the country. Wander through modern, dynamic cities that represent a timeless link between old and new – A fusion of all this is what makes Vietnam such a compelling, authentic destination.
Vietnam is one of Southeast Asia's most culturally and biologically diverse nations. Travel from the peaceful mountainous north to the bustling south and you will discover Vietnam's rich cultural heritage, natural beauty and the warm hearts of its friendly people.
Renowned as one of the world's most biologically diverse countries, Vietnam is home to a large amount of flora and fauna, found nowhere else in the world. Vietnam is also the 13th most populous country in the world with more than 50 recognized ethnic minorities contributing to its cultural diversity.
The ancient, tranquil city of Hanoi is the best starting point for discovering Vietnam. It is a city that gives its visitor a taste of the vibrant everyday life of Vietnamese people. Halong Bay, the northern jewel of Vietnam is decorated with thousands of limestone peaks towering above alluring green waters. In a heartbeat, you will be lost in the beauty of this enchanting expanse.
Hue, in Central Vietnam lets you unravel the many legends of its past as you stroll past the imperial city and the many royal tombs, temples and pagodas. Arrive in Hoi An at night, and be lured into a heaven of lights. Enjoy a relaxing tour along the Thu Bon River in Hoi An and discover the sights and sounds of the beautiful old town that features a delightful fusion of Chinese, European, Japanese and Vietnamese architecture.
On a trip to Southern Vietnam you will discover Nha Trang, one of the world's most beautiful bays. It is also an important tourism hub of the country. The beautiful beaches and clean, clear waters of Nha Trang offer a wide range of activities to match the taste and requirements of even the most discerning traveler. Travel a little further south, and discover Ho Chi Minh City, a busy, contemporary metropolis that continues to preserve its colonial architecture and traditional values. The city is home to many flashy shopping malls, night clubs, restaurants and hotels. Ho Chi Minh's must visit places are the War Remnants Museum, Saigon Notre-Dame Basilica, Cu Chi Tunnels and the Jade Emperor Pagoda.
From colorful cities to lush green forests, Vietnam will delight you with its unique sounds, infinite adventure and a banquet of distinctive flavors. Discover the diverse landscapes, delve into the intriguing past of this splendid nation and come face to face with the people who call it their home. Whether you're travelling alone, with your family or with a group of friends, the incomparable beauty of Vietnam will make your holiday truly magical.