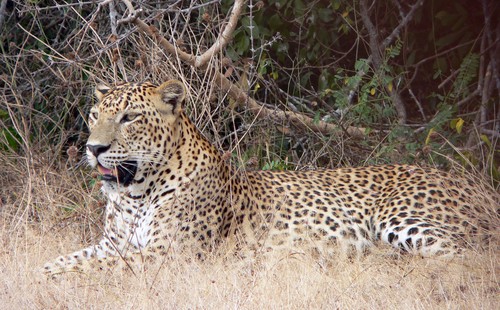 Giant leopard safari at Yala National Park, Sri Lanka
Tanja shares her experience seeing giant leopards at Yala National Park:
Will you be surprised if I tell you that the best place to see leopards in the world is not Africa, but tiny Sri Lanka? I certainly was. It's true, the island's famous Yala National Park has the densest leopard population anywhere in the world, so seeing a leopard here is not just a stroke of luck. I've been to Yala twice and it was amazing both times. Seeing the smallest Big Cat in the wild with my own eyes was simply priceless.
When I visited Yala for the first time in 2011, we had to put up with an 8 hour bus ride from Colombo.  The recent trip was much easier as the newly-built roads make the journey much smoother. Yala is probably the most famous national park to visit in Sri Lanka for both local and foreign tourists. There are a number of fine resorts on the outskirts of the park serving safari crowds. You can also find any type of accommodation here, including basic guest houses, eco-lodges in the jungle with awesome tree houses, camping tents, comfy hotels or even luxury beach resorts. The choice is yours! This time I was traveling with my brother, who was in Sri Lanka for a 3-week holiday, and we stayed at a traditional-style Sri Lankan "mud house." I love small eco places. The owners and staff were super friendly and they served incredibly delicious Sri Lankan meals and fresh tropical fruit juice. But now let's get to the safari part.
We went for a morning safari. Our alarms went off at 4:30 am and a bit later we got into the safari jeep we had arranged the night before. Neither my brother nor I are early birds, so it was a pretty quiet start. When we arrived at the park, our driver Gihan went to buy entrance tickets. Meanwhile we toured the small visitor center, where amazing pictures of Yala's wildlife are exhibited next to stuffed animals. Despite being early morning, loads of other safari jeeps parked next to ours waiting to enter the park. Leopards are nocturnal creatures that come out when the sunlight is dim, therefore early morning or late afternoon are the best times for a safari.
We finally entered just as the sun began to rise. Jeep after jeep took off for an adventure. I can tell you, ours started straight away! About 10 minutes after entering the park we saw a sloth bear walking not too far from our jeep. At first, it looked like he didn't care having an audience, but then he started running and disappeared into the nearby bushes. We drove on for about 2 minutes before our driver Gihan stopped the engine again. We looked around, wondering why. Gihan told us to look at a tree that was about 100 meters away. He said there would be a leopard. But, no matter how hard we tried, we couldn't see anything. We waited patiently for a couple of minutes, only able to see the tree shaking occasionally. But then we finally saw a leopard! A different one! He or she was walking out of a thicket towards the same tree. Even Gihan got excited now, and told us how lucky we are.  Number 2 (well actually our Number 1 since we didn't really see the other one yet) jumped up onto the tree. A little while later both leopards jumped down. It was awesome! One tried to chase some peacocks, the other one ran off into the woods. We could hardly believe how lucky we were!
Gihan told us many fascinating things about the exotic wildlife at Yala. It was incredible how he managed to spot animals and drive at the same time through winding dirt tracks flanked by scrubs and bushes. We saw crested hawk eagles, which are seen in large numbers at Yala, many peacocks, a monitor lizard, mugger crocodiles and a big elephant coolly crossing the road. Many colorful birds flew around. The park is really beautiful. It was a perfect safari up to now. And then we almost got mugged.
We stopped next to a monkey, who sat there nicely on the side of the road on a rock, looking very innocent. But all out of a sudden he jumped on the jeep and grabbed the bag with our picnic breakfast boxes from the hotel! I sat in the back and my brother was in the seat next to our breakfast. I wish I had this scene on video. For about 5 seconds, both my brother and the monkey (who had his arm outstretched to nick our breakfast bag) froze, staring at each other like archenemies. Then my bro quickly grabbed the bag and pulled it out of the monkey's reach. Thankfully the thieving monkey jumped off the jeep, what a relief. We burst in laughter. I nominated my brother to be the hero of the day for saving our Milos and sandwiches! A bit later, we stopped at the beach and had our breakfast enjoying the view of the ocean.
After our little break, we took off in the jeep again, ready for more wildlife sightings. Gihan's walkie-talkie, which he carried strapped to his belt, suddenly started blasting. He said something to the driver in Sri Lankan and started speeding (reasonably). We stopped next to two other safari jeeps at a little rock only a few meters from the dusty road. And there he was: a huge leopard, lying down lazily in the sun and yawning. Fascinating! I never expected to get that close to a leopard, and only now did I realize how big and packed with muscles the smallest Big Cat is. Gihan said Sri Lankan leopards are the largest leopards in the world. They are the apex predators in their habitat, so without any competition from say lions or tigers, these leopards have become huge. Apparently, the biggest leopard on the planet lives at Yala (I didn't see him, though). My brother and I were super excited and took an infinite number of pictures!
After this encounter, we saw spotted deer, colorful butterflies and more elephants. Getting up early and paying quite a sum for entrance (27 USD) and jeep (40 USD for a half day) was definitely worth it. I highly recommend anyone travelling Sri Lanka to go for a safari at Yala.