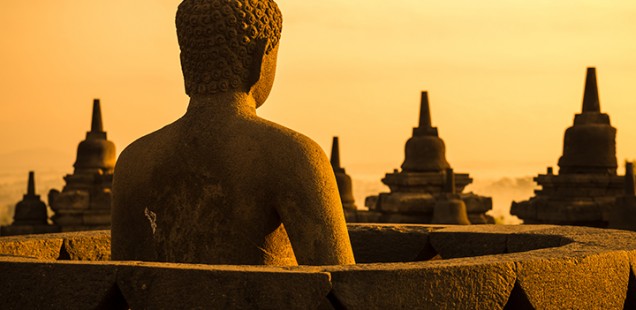 How to uniquely experience Java with kids
When in Indonesia, don't make a beeline to Bali. There are so many wonderful things to see on other islands as well, especially Java. I took my 4 kids to Java a month back and we had a blast. Java has great cultural attractions and stunning natural sights that the kids will remember forever. To get the best out of this often overlooked island, follow these steps:
1. Escape Jakarta
You'll probably fly into Jakarta, one of the most populous cities in Asia. It's very congested, noisy and the traffic is crazy. Jakarta may be alluring to some travelers (the food is quite great) but we wanted out of that urban mess as soon as we landed. If you decide to stay, you can tour Batavia Old Town, Sunda Kelapa Harbor, the Maritime Museum and the Fatahillah Museum.
2. …And take the train to Yogyakarta
We skipped Jakarta and took a mesmerizing train ride through the countryside to Yogyakarta. The train ride was long, but we were too occupied staring at verdant rice fields. Yogyakarta is the center of native Javan culture and arts. I thought it was a bit like an Asian Venice. Everyone loved touring this city, especially the part where we all went to a small village called Gigiloyo for a batik lesson.
3. Stop by the largest Buddhist monument in the world
After seeing Angkor Wat, my kids aren't easily impressed by just any temple. But they were absolutely mesmerized by the massive stacked temples of Borobudur. The site is easily reached from Yogyakarta by bus or private vehicle. It's an unusual temple complex where visitors get to climb three stages representing the Buddhist cosmology. Sunrise tours here are a must.
4. See the "Paris of East Java"
Out of sheer curiosity, we stopped by Malang, whose atmospheric boulevards and cool climate have earned it a well-known epithet.  Rather than Paris, I thought modern Malang veered more towards Bangkok. We ate a lot here and strolled past many Hindu temples than I could count. Malang was a lovely, and maybe even necessary, stop to explore east Java.
5. Stare into the mouth of an active volcano
From Malang we went to explore the famous Mount Bromo. My kids were super excited to climb to the top, which sometimes gives off puffs of sulfuric smoke. It's was an easy climb for them. The forests surrounding the volcano are simply amazing. After hours hiking through the lush jungle, we were all at the top staring down at the lava-filled crater. It was one of the best family vacation experiences ever!
6. Show your kids an incredible natural phenomenon
Even if you don't want to see any volcanoes, do stop by the fantastic Kawah Ijen. It's well known for a crater lake with enamoring turquoise water. This hike was harder for the kids than Bromo, but was doable. Beware that there are toxic fumes near the sulfur mines. To truly enjoy an otherworldly experience, stick around until the evening to watch neon blue smoke streaming down the volcano. These heavenly lights are created by sulfuric gases combusting at high pressure.
We ended our Java tour by island hopping to Menjangan, Bali, for 3 brilliant days relaxing on lovely beaches.