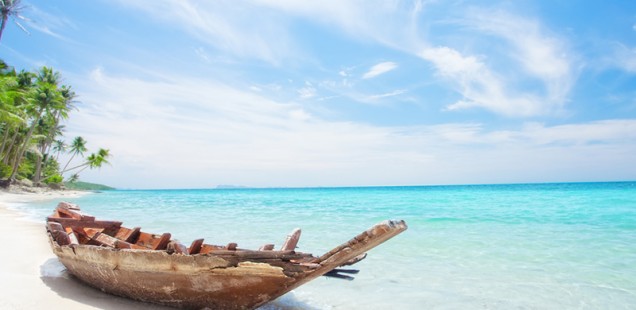 Luxury honeymoon in the Maldives
The Maldives is every honeymooner's dream vacation. Our recently-married guest blogger, Jay, tells us about a lavish honeymoon in beach paradise:
My partner, El, and I unanimously decided to spend our honeymoon in Asia long before we even chose a date for our wedding. We both have demanding jobs so we don't get to travel much outside the concrete jungle of Seattle. So we decided to treat ourselves to a full-out, no expenses spared honeymoon in the lush tropics.
There's one destination that's almost synonymous with honeymooning in Asia: the Maldives. Celebs from Katy Perry to Kate Middleton have made this lovely country their ultimate romantic getaway. Needless to say, there was hardly any hesitation before we hopped on a plane to the Maldives after our wedding for a week of bliss and seclusion.
We arrived at the Malé international airport exhausted from our long flight. Basically, the Maldives is made up of lots of tiny, dispersed islands. Only a few are inhabited, and many others are occupied by resorts. Transport between the islands is either by sea plane or speed boat. Our resort, Cocoa Island, is located on the Makunufushi islet south of Malé. We were told we could get there by speed boat within just 40 minutes. But we chose the sea plane, a shorter transit, but more importantly, exhilaratingly scenic. We got a fantastic bird's eye view of the stunning Maldivian atolls, situated like an emerald garland adorning the Indian Ocean.
When we landed, we were greeted by balmy sea breeze and blindingly white beaches all around. A smiling, sarong-clad member of the Coco Island staff directed us to our over-water "dhoni" suite. From outside, it looked like a rustic wooden houseboat floating on turquoise water. Inside, in contrast, was very chic, with a spacious seating area and a Balinese day bed. El was thrilled by the pleasant terrace that had steps leading straight to the crystal-blue ocean. I loved the privacy the suite provided. It felt like the whole world was just us, floating in our cozy love-boat. (In reality, the suite is fixed to the lagoon.)
Early the following morning, we enjoyed an exclusive champagne breakfast on the silvery sandbank. Sipping golden vintage champagne with El while the sun lit up the world was certainly one of the most romantic moments of my life. We returned to our suite and for a moment I thought we could spend our entire lives together just dipping our toes in the aquamarine water.
Later that day, we went night snorkeling at Cocoa's house reef, which was an exciting first for me. I've been on amateur, day-time snorkeling trips before, but I've never seen marine diversity as magnificently as I did in the Maldives. I saw the corals come alive at night, blooming into bright yellow or stunning orange spectacles. Fantastically, some spawning corals released puffs of eggs that looked like clouds of sparkly stars against the dark water. This only happens at night. El held my hand underwater as schools of radiant fish swam by.
We were more than happy to disappear into a world of our own at the suite, ordering Pan Asian room service and swimming in the ocean whenever we wanted. But we were tempted out of our love-bubble by a luxury sunset cruise for couples. We cruised around the scenic South Malé Atoll, enjoying antipasto and wine while watching seabirds on the hunt. The whole experience was quite ethereal. I held onto El as we watched the iridescent sundown over the Indian Ocean. We basked in the soothing colors of twilight until dusk.
Our Maldivian honeymoon came with a hefty price tag but it was definitely worth every single penny. We made the most incredible memories of our lives on one of the most mesmerizing islands in the world.