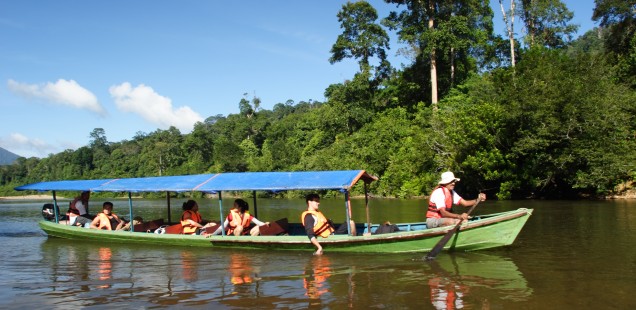 5 amazing reasons to visit Taman Negara National Park in Malaysia
Tanja gives 5 incredible reasons to visit Taman Negara National Park in Malaysia:
A while back, I travelled around Malaysia for a month with a friend of mine. We traveled in September, and after exploring the west coast and the Perhentian Island on the east coast, we went to Taman Negara National Park by bus. We've been on several jungle treks in Asia so we didn't think Taman Negara would have anything special enough to impress us. Our tour proved us quite wrong about that. For a starter, the park is enormous and we were never out of things to gawk at. Below are some great reasons that make Taman Negara a must-visit spot on any tour of Malaysia:
1. It's ancient
Believe it or not this park is said to be over 130 million years old, making it the oldest primary rainforest in the world! Some even say Taman Negara hasn't been influenced by the ice ages or other major global natural events, which, if true, makes this rainforest very special indeed. It's the nature lover's paradise and there are many things to do and see.
We took a boat ride on the Tembeling River to get into the park. After the scenic cruise we reached our guesthouse, which was very basic but was situated right by the river and had a floating restaurant! There was nothing much around except for some other guest houses.
We checked in and got ready for our first rainforest hike. We had a local guy to transfer us further up the river by boat. After about 30 minutes, he dropped us in the middle of nowhere in the dense jungle and we started our 5-hour hike back to the guest house! It was a bit unsettling at first but it certainly gave us the feeling of being real explorers. The verdant jungle was humid and our trail was covered with giant tree roots. Once we got over our initial worries, the hike was quite incredible. We saw exotic birds, snakes, monkeys and tropical lizards up in gargantuan trees. The park is said to be home to animals such as elephants, tigers, leopards and even Sumatran rhinos, but (thankfully) we didn't see any on this hike.
Beware that, along with incredible animals, Taman Negara is also home to leeches. On our hike, I suddenly saw my white sock was red with blood; I had a big leech on my ankle. Ew! I freaked out a bit. But I'd read earlier that they don't like smoke, so we lit a cigarette and blew smoke at it until it eventually let go. Alternatively, you can put salt on the leeches if they bite. To fight the leech menace in general, put socks over trousers and spray your shoes and legs with soap water.
Despite the leeches, our hike was really adventurous with just the two of us surrounded by jungle. When we reached our guesthouse, we felt really exhausted and thirsty. We showered right away and then enjoyed a big Malaysian-style rice dinner in the floating restaurant, yum!
2. See luminous mushrooms
Hiking through the jungle in daytime is adventurous enough, imagine doing it at night! All I can say about it is that it's amazing. First, the cacophony of exotic insects was overwhelming. Sometimes all we wanted to do was just close our eyes and listen to the various sounds. It's in the night that the forest truly comes alive; we got to see animals and plants we'd never have seen during daytime.  Almost everything was illuminated by swarms of fireflies. And there were many leaf and stick insects who had so cleverly camouflaged themselves. But, none compared to seeing luminous mushrooms and lichens glowing on the forest floor like bright little fairy lights of some magical land!
(Sorry for the lack of pictures. Our camera wasn't good enough to capture clear photographs in low light.)
3. Meet relatively undisturbed indigenous tribes
On our jungle hikes, we went past huts of indigenous people living in the jungle. As it was explained to us later, these people are the Orang Asli, meaning "original people" in Malay. They call themselves the Batek and they are said to be the first people to have settled in the Malay Peninsula. They've thrived for millennia by hunting and gathering food from the forest. They are famous for hunting with blowpipes! There are about 2,000 Batek settled along the Tembeling River in Taman Negara. What's so special about them is that some of the population seems to be relatively untouched by modernization and still survives by their ancient traditions. This is unfortunately changing as Batek people are absorbed into the larger society. Still, it was very educational and fascinating to observe such an enduring tribal group.
4. It has the world's longest canopy walk
The canopy walk in Taman Negara is a must! Why? It's the longest canopy walkway in the whole world and is utterly beautiful. The walkway is a rope and wood bridge some 150 feet above the forest floor going through tree tops. The view from up here is breathtaking. We had to climb several exhausting stairs to get up to the walkway and then it was a terrifying and exhilarating 500m walk to the other end. We actually got to see a side of the forest we never would have from the forest floor. We saw the fruits, the birds and pollinating insects of the upper canopy of the forest.
5. Two words: rapid shooting
We took a boat ride upstream on Tembeling for what a guide termed as "rapid shooting." This is different from white-water rafting, where you navigate the boat through rapids. For rapid shooting, we sat on a wooden boat while a boatman had it speeding upstream through bubbling rapids.  It was kind of like an amusement park ride. The boat would shake if it hit a gushing stream of water and splash us all. It was more fun than we ever anticipated. I highly recommend this to anyone interested.