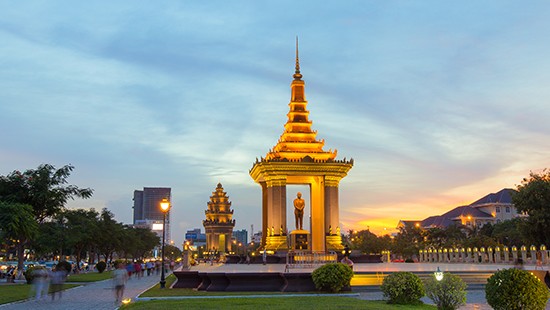 The must-see attractions of Cambodia
Our latest guest blogger, Jackson, writes about the best spots in Cambodia for beach and culture fans:
My boyfriend, Sergei, and I are avid Southeast Asia fans. For the last 5 years or so, we've holidayed exclusively at Thailand and Vietnam. Last month we decided to tour Cambodia. Unfortunately, most people don't seriously consider touring this wonderful country. On the flip side, that means less tourist crowds to worry about. Cambodia wowed up both with its tranquil beauty and quirky attractions. Here are the places we loved the most:
Siem Reap maybe a small town, but it has unbelievably cheap spas and street food. Tourists come here because it's a great place to explore the nearby Angkor Wat temple complex. TripAdvisor didn't rank it #1 on their "best landmark in the world" list for nothing. This UNESCO designated site is an iconic symbol of cultural pride, and a great place to go on an adventure. We combined touring Angkor temples with exploring Siem Reap to avoid temple burnout.
We got a 3-day Angkor pass valid for a week. Travablue arranged an air-conditioned car and a guide for us, which was very pleasant because this area is very hot and dusty. Our guide explained all the stories and legends surrounding each temple we saw. The biggest draws here are the main Angkor Wat temple, the mysterious Bayon face temple and the Ta Prohm jungle temple featured in the movie "Tomb Raider." Travablue's local agent organized our route in a way to avoid the busloads of tourist groups, which was very nice.
After our temple tours, we went go back to Siem Reap and treated ourselves to aromatherapy massages, really cheap beer and wonderful street food.
We also toured the Bantey Srei temple, a great place to discover Cambodia's Hindu heritage. If you are an architect or an interior designer, you'll go crazy here. The temple walls are covered in millions of absolutely exquisite carvings. It's hard to believe they were made by human hands.
Do you know what inspired the breathtaking Angkor Wat temples? It was the Sambor Prei Kuk group of temples, tucked away on the eastern bank of the Tonlé Sap. These spectacular temples are probably the oldest cultural sites in Cambodia. They are almost completely overtaken by the jungle, so we were never bored here.
After Siem Reap, we headed south to Cambodia's western coast. On the way, we stopped by the bustling capital city of Phnom Penh. This lively city is where you'd learn about Cambodia's recent, and very dark, past. We toured the Genocide Museum, and later went to the glitzy Royal Palace compound to feel better. We also made a detour to the Silk Island about 15km from the city, to see amazing traditional artisans at work!
We drove all the way down to Kep, Cambodia's own Cancun. The beaches here are utterly unspoiled and crowd-free. We went on a splendid excursion to the Rabbit Island, where the secluded, white-sand beaches are hidden away. Here we sunbathed, tried some snorkeling and went on a safari at the nearby Bokor National Park.
This is our favorite beach in Cambodia. Oh, how we wished we chose Sihanoukville for our honeymoon. Sihanoukville's milky-white sand beaches shaded by coconut palms are breathtaking. The beaches here are relatively underdeveloped without much tourist facilities. So they remain tranquil and pristine.  It's easy to lose track of time being pampered by the tropical sun at this part of the world.
Our Cambodia tour went way better than expected (partly due to excellent coordination on Travablue's side). We are already planning another tour for next Christmas!
Jackson and Sergei exclusively tailor-made their Cambodia tour with Travablue.