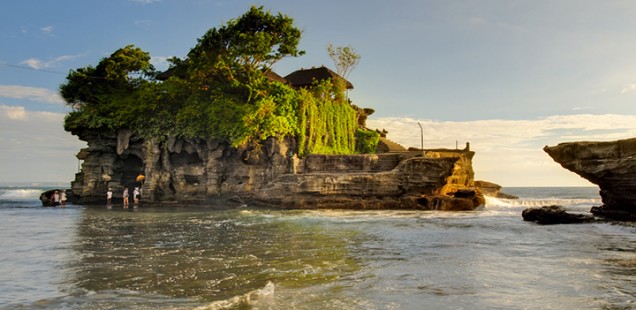 Top 10 things to do in Bali
Huge Bali fan Chris shares his favorite activities and sites at the famous Indonesian destination:
When it comes to memorable vacations, there's no place like Bali. It's more than a place; Bali is the ideal vacation experience. There are so many things to see and do here suitable for every taste. I'm one of those lucky people who've been to Bali several times. So here goes my list of all-time favorite things to do in Bali:
Enjoy the hotel stay of a lifetime
Bali has so many innovative accommodations for the discerning traveler. If all you like is enjoying the view from a hotel room, then this is your place. Stay at an over-water villa with private mini-pools to dip your feet in while sipping champagne. Or you can retreat to the countryside for tranquil verdant views.
Watch the amazing sunset from a sea temple
Super popular Tanah Lot temple in Bali is an awe-inspiring work of art. To truly be enamored, stick around until sunset to watch a spectacular light show courtesy of Mother Nature.
See a Barong dance
If you are ever in Bali, you must see a traditional Barong dance to get an idea of how unique Bali's culture is. These dances are actually musicals with elaborate costumes telling mythical stories. Kids will love the dancing lions and the dragons.
Discover the exotic underwater world
Bali is famous as a snorkeling and a diving destination. And once you see the coral reefs, you'll understand why. They dazzled me enough to make me a hobby diver. There are good dive spots in Candi Dasa, Padang and Nusa Penida, but Menjangan Island is truly the best.
Go see the dolphins
That's right, you can see pods of dolphins spinning and playing in the blue water off the shores of Lovina, in northern Bali. There could be as many as hundreds of dolphins per pod at a time. It's truly profound to see these magnificent creatures free in the wild.
The food!
How can you leave Bali without trying authentic Nasi goreng or mutton satay? You can go on city walks in the evening to sample all sorts of scrumptious street food. You really should try Babi guling pork roasted with spices. People fly in from Jakarta to taste this!
Let go of your worldly worries at a water temple
Get away from the beach crowd and visit the gorgeous Ulan Danu Bratan Hindu water temple. It can work wonders for your soul.
Go see those famous rice terraces
Explore the spectacular countryside of Bali dotted with incredible rice terraces. Jatiluwih particularly has gravity-defying rice fields spread over lush mountains. There are very few tourists here and I guarantee the view will be unlike anything you've ever seen before.
Meet the amazing people
The highlight of my vacations to Bali was meeting the locals. They are so welcoming, tolerant and always greet you with a warm smile. I made really great memories talking to paddy workers, fishermen, roadside vendors and learning about their lives. Take a tour guide with you to translate.
Explore paradise beaches
The ultimate thing to do in Bali is to explore as many white-sand paradise beaches as you can. Kuta, of course, is the most established beach. You can head there for the restaurants and bars, but the beach is completely trashed.  Instead, go to Nusa Dua for stunning scenery, Sanur for bright-white shell-laden sand, remote Balangan for privacy, Padang-Padang for intriguing fauna and Jimbaran for sparkling blue water.