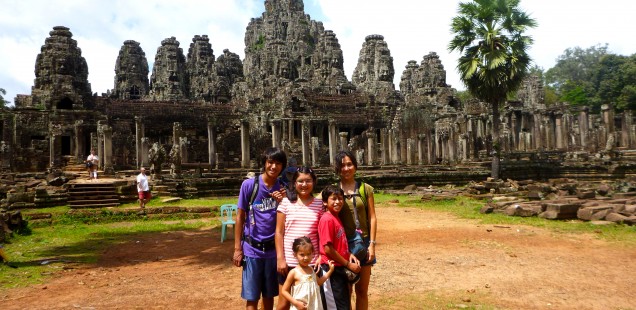 Touring Angkor Wat with kids
Travablue's CEO Masa shares his experience and advice for touring Cambodia's famous Angkor Wat with kids:
My wife and I have been traveling with our kids ever since the oldest was a baby. I can tell you from firsthand experience that it takes a little more work and careful planning, but can be incredibly rewarding and create great memories for the family. One of our favorite trips was to Angkor Wat in Cambodia with our 4 kids ranging in age from 5 to 15. We weren't sure at first if our younger two would be able to appreciate and enjoy an old archeological site, albeit a UNESCO-designated architectural marvel. Then again, with Indiana Jones-style ruins in the jungle, giant trees eating up temples and bas-reliefs telling stories of epic battles, how could they not?
We made sure to choose a hotel in Siem Reap with a pool that was within walking distance to the restaurants and market. Then, how to get around? By chauffeured, air-conditioned car or Camodian-style motorcycle-and-carriage tuktuk? We decided to go with a chauffeured tuktuk! It was dusty, and it did get hot, but it was so much fun! The six of us fit cozily in the carriage and enjoyed our adventures al fresco with the wind whipping through our hair as our driver, Mr. Seoun, guided us through the temples and beyond. It poured rain one day, but no problem! Seoun zipped a clear plastic cover around the carriage and we stayed nice and dry!
We had 5 full days in Siem Reap and our holiday started as soon as we landed at Siem Reap airport.  It has to be one of the calmest, quietest airports we have ever been to. The customs and immigration officers were friendly and relaxed, setting the tone for us right away that this was going to be a wonderful holiday.
We got up early on our first day excited to see the great Angkor Wat, had a lovely hotel breakfast and jumped into our awaiting tuktuk. The Angkor Wat temple complex grounds are huge and there are no gates, but foreigners are required to purchase a ticket before entering (children under 12 are free). So Seoun took us to the very organized ticket sales area where we had to choose between a one, three or seven day ticket. We decided on three-day tickets and each of us got our own personal laminated entry ID card with our name and photograph on it. The three day ticket turned out to be perfect for us. We didn't have to rush around or stay at the temples all day, and the tickets were flexible (visit any 3 days within a 7-day period), allowing us to take a day off from temple hopping. The seven day ticket would have been way too long for our family!
We went to lots of temples, most of which I can't name anymore. They were all special in their own way and most were kid friendly in that there were boulders and ruins to climb on but honestly, after a while they all started to blend into each other. Here are the temples most memorable for our family:
Bayon Temple at Angkor Thom: From afar Bayon looked like a crumbling stone structure lost in the jungle. It was only as we got closer that we noticed the giant smiling faces staring down at us from all angles. My kids were delighted to see such an unusual temple with these great, stone-carved faces staring at them from all around. My kids stared back wondering what secrets they had to smile about. They were excited by all the things there were to climb on and the passages to explore. Some steep narrow stone steps leading up to a little doorway had all the allure of a high-up tree house.
Ta Prohm: This temple was made famous by the movie "Tomb Raider," and that in itself was reason enough for my older kids to want to see it. Ta Prohm is an incredible sight to see. The temple looks as if the jungle is about to swallow it up. For my kids (and me!), it was an exotic playground. They climbed over the slithering tentacular tree roots overtaking the temple and pretended they were ancient explorers. There were piles of ruins to climb on and passages to explore. We toured the room that was once the main sanctum and its walls had big holes that were once filled with rubies, and this of course prompted a treasure hunt.
Terrace of the Elephants: This was once a massive viewing platform from which the royals watched processions on the boulevard down below. You can actually go on an elephant ride here which I would recommend if you've never done it before.
Angkor Wat temple: The kids were surprisingly engaged and fascinated by the tour guide's stories of Khmer history, and his tales of the Hindu gods and demons depicted in the bas-reliefs. We were fascinated at the long ago greatness of the Khmer Kingdom as evidenced by the grandeur of the ancient Angkor Wat. Women are required to wear long pants or a skirt to visit the inner part of Angkor Wat and at least one other less famous temple. We learned the hard way that a sarong is not accepted, so plan accordingly!
We found Siem Reap to offer so much more than just temples.
Where did we eat? We had breakfast at the hotel every day and we carried water and snacks with us as we toured. This was key as it was super-hot and we found ourselves feeling dehydrated very quickly! For lunch on the first day we ate at a simple restaurant in the vicinity of the temple complex and had local Khmer cuisine, which, to us, was similar to Thai but much milder in flavor. There weren't too many food choices by the temples so for the next two temple sightseeing days we decided that lunch time was a good time to take a break from the hot Cambodian sun! We had lunch at one of the many restaurants in town and took a break at the hotel. We had our dinners in town too.
There's a whole array of family-friendly restaurants in the Siem Reap market area serving everything from burgers to traditional local food so we had no shortage of choices. It's wonderfully convenient as everything is within walking distance of each other and we found the food overall to be better and cheaper than in many other places we've visited in Asia
Several of the restaurants offer cooking classes which interested our three older kids so we signed them up for a class on one of our "rest days." They went to the wet market with their instructor, bought the ingredients and then prepped and cooked lunch for the family.  What a treat for us! Yum! It was a memorable experience that they talk about all the time.
The town really comes to life in the evening when the night market opens up and we enjoyed wandering through the alleys shopping for trinkets and people watching. Foot-massage fish ponds are popular here and are a lot of ticklish fun if you have never tried it.  You sit with your feet dangling in the water and let the fish nibble at your toes! The kids couldn't get enough of it so we were able to have a nice massage while they had their feet tickled for an hour.
One of the other things we did on one of our off days was visiting one of the water villages on the Tonle Sap Lake. We rode a boat to get there. This is a floating town where everything from the school to the shops is on some kind of boat. It was sad to see that it was a huge tourist trap but we still found it interesting and would recommend it. If we'd had more time we would have gone to one of the further flung villages that might not be as commercialized. Still, I enjoyed learning a little about the community and getting a peek at their lives on the water.  I was fascinated by the Tonle Sap that changes its water level immensely in size through the seasons, such that the houses in the region are all built on stilts to prepare for the annual flooding.
We went to the land mine museum, which was sad but very informative and educational. The museum was opened by Aki Ra, a man who personally tries to locate, remove and deactivate as many land mines as he can. As a child he was forced to lay many of Cambodia's land mines during the war. Aki Ra has received many international awards for his efforts and I highly recommend a visit.
We also visited a shooting range where you have the opportunity to try out all sorts of weapons including machine guns. This excursion had been recommended to us by friends that had enjoyed their experience very much, but we did not feel right once we got there. We had just been to the land mine museum and it was fresh on our minds why these machines even exist. It really creeped us out, so we left without trying anything.
Our trip would not have been complete without purchasing a simple Cambodian hammock. We quickly learned that hammocks are very popular and are a way of life in Siem Reap. We saw them everywhere—people lounged in them in the shade beneath their stilt houses and little rest houses and cafés on the sides of the road had rows of hammocks for their patrons. Even the land mine museum had a few out front for relaxing. Our tuktuk driver, Seoun, would hang his hammock up in his tuktuk for a nap while waiting for us.  Our kids loved them and we bought a couple from the local market to take home with us!
Our trip to Siem Reap and Angkor Wat was incredible and our whole family loved it. With planning ahead and preparing for the sun and heat, I think it is a great place for a family holiday!