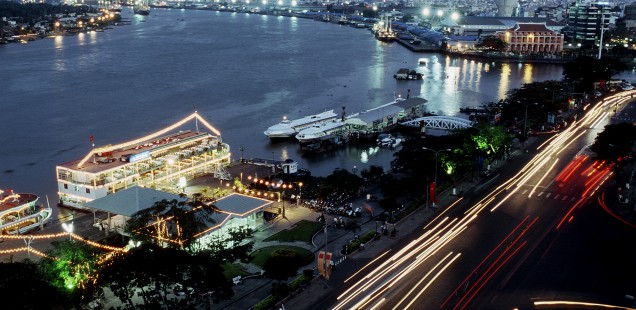 Where to go in Vietnam with kids
Masa writes about his long family vacation in Vietnam with four kids:
Vietnam is a wondrous place to travel with kids. The sights, the sounds, the unusual food—these will all be utterly fascinating to children, and adults as well. A while back, my wife and I took our 4 kids on a long family trip around Vietnam. We covered a number of places in two weeks. As usual, our trip was planned by a Travablue colleague so we didn't have to worry about getting around or finding a place to stay.
Generally speaking, Vietnam is safe for kids. The people are friendly and they adore children, especially foreign children. Only thing to worry about is the traffic when you are walking on sidewalks in the cities. Local driving is not particularly disciplined and vehicles can swerve around you while you cross the road. So walk in a straight line while crossing the street and adults should walk beside children on sidewalks. Also, don't forget to pack bug repellant and sunscreen.
That being said, here's a list of places we explored in Vietnam that my kids loved and I'm sure yours will too:
Ho Chi Minh City
Ho Chi Minh was our first glimpse into modern Vietnam. The city today has no resemblance whatsoever to the war-torn Saigon seen in movies. Ho Chi Minh is an incredibly energetic place, as bustling and ambitious as Bangkok. The traffic is crazy and there were so many places to shop and eat. The kids were immediately taken with the flashing lights and the hustle and bustle of Ho Chi Minh. It's better to spend several days here to explore without being too overwhelmed.
First, we drove around the city with our driver and guide and then took a 2-hour excursion to the Cu Chi Tunnels, Saigon's premier tourist attraction. The tunnels are actually a complex system used by Vietcong during the American War. This was an unexpected introduction to war for our kids. We had to explain that the peaceful forest that we were now walking in was once the place of so much death and destruction.  They were a bit disturbed but also very curious. It was hard to imagine that people once fought, lived and even had babies crammed underground here.  The tiny trapdoors the Vietcong used to hide in and surprise their enemies were really interesting to the kids. They immediately made comparisons to the game whack-a-mole, except the "moles" in this one shoot at you. Soon after, we went to the Cao Dai Temple, a colorful and serene place in stark contrast to the violent memories of Cu Chi Tunnels.
It's so worth it to take an afternoon off to show kids around the Cho Ben Thanh Market. It's huge and sells pretty much everything including food and souvenirs. My kids were easily excited by the bazaar-like vibe of the marketplace. They had so many things they wanted to buy but we wouldn't let them (scorpions in alcohol? No, I don't think so). We did buy a lot of souvenirs, local artisan items and of course, Vietnamese street food. There are many food vendors here so it can be difficult at first to figure where to go. So we browsed and sampled a good variety of noodle and rice dishes.
We also went to the charmingly French colonial Norte Dame cathedral in the city and spent time shopping before transferring to our next destination. Shopping malls are everywhere here and we bought quite good quality cotton fabrics and toys for the kids.
After couple of days in Ho Chi Minh, we took a domestic flight to the famous Nha Trang Beach where we tried many water sports activities.
Danang
We came to Danang on an overnight train that the kids got really excited over. There are couple of things to note about train rides in Vietnam: Most are pretty awful in terms of cleanliness and I would not recommend a train journey with kids unless they are used to rough traveling. I think it's worth spending some more money on a domestic flight.
Danang is the beach paradise in Vietnam. We do not regret a single minute of the time we spent as lazy beach bums at a seafront resort on China Beach. The kids however were hyperactive and they wanted to go explore. We took them to the Marble Mountains, which are five stunning peaks, each representing an element of the universe. In case you are wondering why they are called the Marble Mountains, that's because of what they are—pure marble. We climbed to the summit of one really feeling the marble beneath our feet. These mountains are filled with labyrinths and amazing temples built into the rock. This sort of adventure is exactly the kind of activity my kids love. At the summit, we got a fantastic panoramic view of Danang, and it looked as if we were looking at all of Vietnam.
Hoi An
Hoi An is the laidback answer to Ho Chi Minh's hyperactive urban sprawl. The entire city is a UNESCO designated site. My kids aren't exactly enthusiastic about relaxing city walks, but for Hoi An, they made an exception. We went on a dreamily atmospheric evening walk around the city admiring the charming historic buildings and many shops with lanterns hanging on the outside. The Chinese merchant houses were especially exquisite. Some of them were over 200 years old!  Hoi An is also a great place to eat at. We tried finer versions of local food at some fantastic restaurants.
Hoi An also has a nice white-sand beach. We cycled there through rice paddies to spend the day swimming and relaxing. We spent another day on a river boat tour on the scenic Thu Bon River and watched fishermen in round basket boats.
Hue
We went on another train ride through the mountains from Danang to Hue, another UNESCO designated city. The scenery on our way was stunning. Hue wasn't as atmospheric as Hoi An but the city, as the former Imperial City of Vietnam, is brimming with historic sights not related to the American War. Hue's historic attractions come from an earlier time so the kids were genuinely curious to find out about Vietnam before the time of the Vietcong. We toured the Imperial City and the cylindrical Thien Mu Pagoda. Best part was touring the royal burial grounds and the elaborate tombs of former emperors Minh Hang and Tu Duc.
Hanoi
Hanoi, the quirky capital of Vietnam. Hanoi is simply a great city to tour. There are plenty of historic sites to see and many good restaurants to try a variety of cuisine. We had choco-raspberry gelato after touring the Temple of Literature, Vietnam's first university. Then, after touring Ho Chi Minh mausoleum and museum, we had Xôi sticky rice for lunch.
What we liked about Hanoi is that the city still possesses an old-world charm. We got that feel when we wandered through Hanoi's Old Quarter. We took our kids to the markets so they could ogle at the exotic items sold there. We went on a morbid tour of the Hoa Lo prison, used throughout history to torture people. Well, we did see John McCain's flight suit in a glass encasing there.
My kids are usually bored with museums (unless they have dinosaurs) but even they were fascinated by the Museum of Ethnology documenting Vietnam's astonishing diversity. Afterwards, we took a stroll by the West Lake. We concluded our tour with a shopping spree at the huge Vincom mega mall. It even had an ice rink!
Sapa
Our overnight train to Sapa was better than the rest. This was certainly my favorite part of the trip. Sapa had some of the most spectacular scenery we've seen in Vietnam. This highland town is famous for the astounding terraced rice fields and is perfect for trekking and ecotourism. We all absolutely loved hiking through the rice terraces.
There are many hill tribes in the area. With our guide and driver, we visited several ethnic villages. The kids found it fascinating and were captivated by the colorful costumes of the tribal people. Many of these hill tribes travel for hours down the mountains on foot to trade goods at the Sunday market in Bac Ha. We went to the market and I found it very interesting. It wasn't like the markets we saw in the cities. There were many food items unique to the hill tribes of the area. We cautiously let our kids try some H'mong blood pudding. The most popular item here is actually locally brewed moonshine. We weren't crazy about that.
We had a Halong Bay cruise planned, but it was canceled due to bad weather. Make sure your cruise company gives you the choice to cancel in Hanoi if the weather is bad.
Overall, we had a great time in Vietnam. We barely felt the time pass by. My kids found the whole vacation experience entertaining. Long family holidays can be a challenge to plan, especially ones to Southeast Asia. So, at Travablue, we've designed a long tour of Vietnam keeping families in mind. You can check it out here: https://www.travablue.com/en/have-hun-with-family-in-vietnam