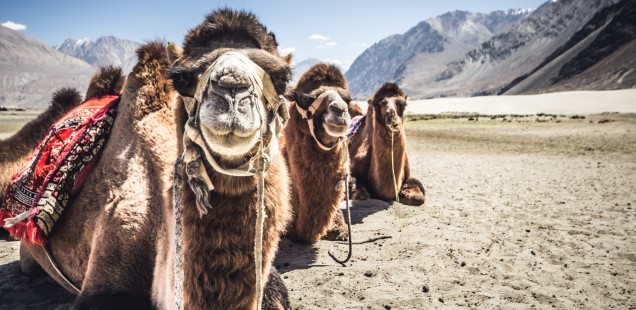 Why Ladakh is the best place to visit in India
Travablue's North America VP Chris shares his experience touring Ladakh in India:
There are two kinds of people in the world: Those who have visited Ladakh and those who haven't.  For those who don't know, Ladakh is a landlocked region flanked by the Himalayan ranges in Kashmir. If you are like me, you are probably going, "whoa, Kashmir, isn't there a war there?" I thought so too at first, but Ladakh has been a generally safe place to travel since the 70s. And, trust me, once you've been there, you'd never want to leave.
Ladakh is unlike anywhere else in India. First, you have the spectacular landscape. When I first stepped off in Leh, a small town that was my base to explore Ladakh, I thought I must have landed on another planet. Remember all those ethereal landscapes we are familiar with from sci-fi movies and fantasy novels? Yeah, that's Ladakh. The whole region is barren cold desert. The sun is hot and the wind is freezing. Be ready for ineffable views of stunning mountain vistas, unbelievable monasteries perched on high crags, glacial lakes and the endless blue sky you can see for miles and miles ahead.  Best part is that it's empty and quiet. There are no cities; just small and extremely rural settlements. No Wi-Fi, fancy cafes or traffic. It really is an alien frontier.
The remote and underdeveloped nature of Ladakh I mentioned before makes public transport here infrequent and taxi prices exorbitant.  This didn't bother me too much because I had a guide and a car from Travablue. Also, don't expect fancy hotels. Accommodations are basic, such as guesthouses or homestays. I stayed at a small family-run guesthouse in Leh that offered home cooked meals. My first day was spent trying tasty local delicacies like pork dumplings. It's amazing how the locals make such delicious food with only a handful of ingredients available in this desolate land. I rested well on my first day, which is important because the body needs to adjust to the high altitude first before going sightseeing. There's nothing like a steaming cup of yak butter tea, sharp and vaguely sour, to help you adjust to the climate.
Before I ventured out of Leh, I spent about a day exploring the town. It's small enough to be accessible on foot. There are vibrant bazaars to shop at but the most interesting part of town is the "Old Town" area that has mud-brick houses and Tibetan Buddhist temples called gompas. Even though this is India, the majority of the population in Ladakh is Tibetan Buddhist. So gompas are ubiquitous here.  I visited several in Leh that also taught Buddhism and meditation to lay people. Visiting the many hilltop monasteries here is a must. Not only was I treated to a great spiritual experience, I also got fantastic 360-degree views over the area.
The best way to explore the rest of Ladakh is by trekking, cycling, or mountain biking. It's not advisable to do any of these alone in this untamed terrain, so always have an experienced guide with you. Note that foreigners require Protected Area Permits (PAP) to get around in Ladakh. A travel agent, like Travablue, can easily get you one or you can apply in person at the District Commissioner's Office in Leh.
There are several trails to explore the highlights of Ladakh. One of the best ways to fully take in the beauty of the place is a road trip down the Leh-Manali highway, which is exactly what I did first. I had a chauffeur to do the driving so I sat back with the windows open and just gawked at the visual spectacle we were passing by. The road we took is one of the highest motorable passes in the world. Down below were majestic rivers flowing strangely gently through rocky formations and up above were snow-covered peaks in the distance. As we drove, I also saw many Buddhist monasteries perched high up on distant hills.
After the road trip, there were several places to visit and Nubra Valley was on top of my list. The valley is dotted with gompas, settlements and best yet, a bright blue skyline dominated by giant Buddha statues. Not to mention the rolling, Tatooine-like sand dunes.  We stopped at the capital, Diskit, for some trekking with a guide through high mountain passes once used by Silk Route merchants. The scenery was dazzling, especially during sunsets when the fading rays cast otherworldly shadows of the peaks over the landscape.
And then there is the wildlife. Yaks are everywhere! We drove to Hunder for a desert safari on a double-humped Bactrian camel! Hunder is famous for them and my guide said they were brought here from Central Asia by merchants. Then I visited the famous Samstaling Monastery and took a trip to the hot springs of Panamik. These are unlike any other hot springs; situated over 10,000 feet above sea level and their sulfuric water is believed to have healing properties. I highly recommend reserving a day or two to stay here.  Houses in Panamik are famous for water piped from the springs.
Of course, I couldn't leave without a visit to the famed lakes of Ladakh, which took another road trip from Leh. I spent a day visiting the Pangong Lake, at the India-China border with waster as blue as the sky and as clear as glass. The local Tibetans call this the "enchanted lake," quite rightfully so. Then I spent two days in a tent at Tso Moriri, a captivating glacial lake with refreshingly blue water surrounded by brownish mountains. This is a favorite place of many tourists. On the way back to Leh, we took a short rest at the Tso Kar saltwater lake. It didn't matter how many lakes we visited in Ladakh, I couldn't get enough of them.
All this sightseeing took me about 2 weeks. Ladakh is not the place for a weekend trip. I had my itinerary well-paced and coordinated with a Travablue colleague to get the best of my trip. Ladakh is simply magic. If you have only one place to travel to in India, make it Ladakh.
Let Travablue plan your ultimate Ladakh getaway at https://www.travablue.com/en/tailor-made-tours-india/general-info