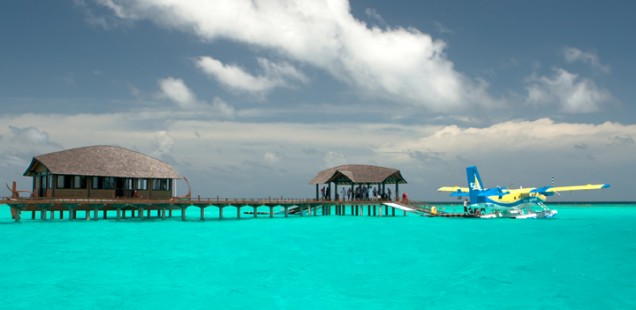 Why You Should Never Spend New Year's Eve at the Maldives
Tanja is finally ready to talk about her obsessive New Year's Eve vacation in the Maldives last year:
Yes, Maldives is where the A-listers go to celebrate Christmas and New Year's. As they say, if it's good for the Beckhams, it's good for everyone else. I've been to Maldives before. The problem was, it was too hard to drag myself away from this atoll country. But, being the masochist that I am, I chose to celebrate the last New Year's holiday on an island in the hyped up Kaafu (North Malé) atoll. For reasons that'll become obvious as you read along, this vacation became one of the worst I've experienced. Usually, I prefer to end the year on an alluring beach, sipping a cocktail or two, maybe trying a watersport, touring around a bit and partying on New Year's Eve. I did all this in the Maldives, but here's what went wrong:
The hotel almost gave me cardiac arrest
I decided to spend my time at the Sheraton Maldives Full Moon Resort & Spa, a luxurious and secluded resort. My colleague Chris only had to mention "hotel has its own private beach," and I booked a room for one.  The thing is, the moment I saw their overwater villas surrounded by the azure ocean, I was dangerously in love. (My overwater villa had its own dip pool, wheeeeeee.) I only had to walk a couple of steps from my bed to reach the tropical sea! They had an absolutely lavish spa offering excellent Thai massages, herbal face packs and a nail salon (I had my nails done ombre for the New Year's Eve party). They even had yoga and meditation sessions, which are great to try after a very long and extremely busy year. The food was divine and the service was great. However, I didn't spend much time inside. Instead, I was stupid enough to venture outside and see…
My hotel was surrounded by powder-fine, blindingly white stretches of almost secluded beaches. I couldn't drag myself away. I forgot to check my emails, call mamma, or even check if Wi-Fi worked in my room. Instead, I was busy sunbathing and taking long swims in the clear, enticing water. It was after a while that I realized I was completely addicted to these beaches. The weather was perfect so I could spend the whole day at the beach just staring into the horizon, or watching the beautiful waves lapping at the silvery sand. It was like sugar, but way worse.
The private lagoon almost drowned me…
…In ecstasy. Did I mention that my resort had its own private lagoon? Yes, so guests could dive and snorkel in privacy. There were no long lines or everyone rushing to be the first to the coral reef (like Bali in the peak season). I could do my own thing without being too self-conscious. And the scenery was bewitching. Because there aren't that many people who come here except hotel guests, the reefs remain pristine and undamaged (except the damage done by climate change.) My guide gave me a long list of wonderful creatures I could see on a dive—angelfish, barracuda, clownfish, manta rays, parrotfish, grey reef sharks, whale sharks, etc. I didn't think I'd actually see them all underwater, but I did! Now I'm completely spoiled for underwater scenery. I don't think I can enjoy snorkeling or diving anywhere else without wishing it was as fun as in the Maldives.
Trying watersports gave me adrenaline overdose
Okay, so there were all these watersports I could try that I've never done before. I went parasailing, which was so awesome I think my adrenal glands went into overdrive. Then I went on a fun tube ride (basically couple of adults get onto a giant inflatable float, which is dragged all over the ocean by a speedboat). It's one of those things that I thought would be so juvenile, stupid and un-fun, until I started the ride and it was the best thing in the world, ever. I also tried windsurfing, a watersport that had managed to elude me all this time. All this only gave me an incredible adrenaline high I was desperate to reach over and over again.
The complimentary gala dinner made me wish I got food poisoning
Finally, after several hazy days of utter fun, came the big event I've flown here to celebrate—the New Year's Eve. The resort hosted this gala dinner for everyone. I thought it would be boring and full of pretentious people. I was quickly proven wrong. It was quite humble, despite the Prada and Versace attire some guests wore. Far from being boring, everything was made interesting by the absolutely delicious food and drink we were served. I had first-rate cocktails and champagne. The dinner spread was to die for. It was a five-course meal with exactly a hundred and one dishes from all over the world. There was DJ music and unbelievable fire dancers. It was perfect enough to make me wish that I could find something to complain about, so I don't miss it so much even after a year.
Now you see why I wish I'd never spent last year's New Year's Eve in the Maldives. It was so good while it lasted, but when it was over, I felt horrible leaving. Maldives is an enticing country that hooked me instantly. Don't ever go there if you don't want to suffer withdrawal symptoms like me.